Citizen experience may seem like a nascent concept, or even nice-to-have against the backdrop of recession, cost-of-living crisis and the mantra of do more with less. But Adobe's recent report with Forrester Consulting, looking at how governments agencies have implemented Adobe Document Cloud and Experience Cloud, suggests the cost savings and business benefits of creating better public sector experiences are significant.
There is a growing expectation among citizens for better experiences. Today, people don't compare their experiences with public bodies to other public bodies. They compare them to their last, great experience with digital leaders like Argos, EE, First Direct, Ocado and (of course) Amazon and Netflix.
In fact, in the US great customer experience is mandated by law and has been the subject of a presidential executive order. Adobe's simple, seamless and secure solutions are widely used by US government agencies to help them deliver on the Executive Order on Transforming Customer Experience and Service Delivery to Rebuild Trust in Government. Issued in December 2021, it puts better customer experience right at the heart of improving services for US citizens.
Here at Adobe, we wanted to better understand the economic impact of implementing our software, so we commissioned Forrester to produce a study, published in September 2022.
Forrester conducted interviews with six US government agencies asking about their experiences of Adobe Document Cloud and Experience Cloud. The results were amalgamated into a composite organisation, adding together the benefits to arrive at a single figure representing the total value to all six agencies as if they were one organisation.
Overall, they found a 205% return on the investment in Adobe's products over three years. And one of the biggest improvements was in the reduction of paperwork.
The paperless dream
In the US, paper-based operations, including widespread use of fax machines, have persisted. In fact, fax machines were such a problem that Centers for Medicare and Medicaid, which administers the government-run health insurance programme, wanted their use ended by 2020. The NHS was banned from buying fax machines from 2019, with a total phase out by April 2020 proposed by the then Health Secretary.
And according to the Executive Order, the paperwork required by federal agencies takes the public a staggering nine billion hours a year to complete. That's just the time for the forms to be completed: the processing time is unknown.
There is an enormous opportunity here to cut the administrative burden for citizens and government departments, and digital documents are part of the answer. Forrester's study found that by saving documents as digital files, and making them accessible for mobile devices, the government agencies cut transaction times for customers by 30%. That frees up staff to do other things, such as handling more complex enquiries.
There is also a sustainability gain. Reducing your reliance on physical documents, with their associated printing, sending, scanning and even faxing, cuts the amount of resource you use. And in the era of remote and hybrid workforces, the need to get documents sent, completed and returned quickly takes on a new importance. With fewer people working from centralised offices, transferring information internally is no longer just a case of taking a physical document to another floor.
Creating the documents in the first place also benefits from digital technology. Forrester's interviewees said that templates for digital forms made it much easier to create the forms: staff built the forms themselves, without the need for specialist IT involvement. It also made translating content into different languages quick and easy. Managing content across multiple sites is a major admin challenge, made considerably easier when it's done using content management software built for the job.
Customer service on the front line
Covid-19 and the ensuing economic fallout, coupled with massive geopolitical uncertainty, have tested the resilience of customer service operations like never before. Anything that can relieve the pressure on agents in call centres helps organisations and customers.
The pandemic itself reinforced the importance of solid, reliable and helpful digital operations. When seeing someone in person wasn't an option, and when accurate information was at a premium, people came to rely on government websites. The ability to quickly update information and change site structures without the need for complex, costly and time-consuming development became crucial.
Today that need still exists. Any organisation providing the information its customers are looking for via a digital property will save itself, and its customers, time and effort. Fewer and fewer people want to call customer services. Most want to find the answer on a website or an app, and – if they can – it saves service agent hours being spent on resolving simple queries that could be handled without their involvement.
The US government agencies interviewed by Forrester found that by doing this, and by using analytics data from Adobe Experience Cloud, they reduced the time service agents spent on calls and emails by 50%. That's not because they want agents to spend less time with customers: quite the opposite.
By removing the need to deal with routine enquiries that can be answered using self-service (such as 'what time do you open' and 'how do I renew my prescription'), agents get more time to deal with more complex queries; the sort of queries that require human involvement to solve.
Build it yourself? Or get the experts in?
The idea that government systems need to be built in-house from scratch is understandable, but private sector collaboration and components can provide a fast, efficient route to successful outcomes.
During the pandemic the Department for Health and Social Care needed to distribute PPE across the country. Initially it used a straightforward, simple portal to solve the urgent need for PPE, but in the long run it needed something more sophisticated.
Using Adobe Commerce, the DHSC created a platform that brings the functionality and customisation of a powerful commerce solution to the vital job of supplying PPE to the UK's health service. By putting customer needs first, the solution has successfully delivered billions of items of PPE to users from 58,000 registered providers of health and social care.
The Home Office's EU Settlement Scheme app, which allowed EU nationals to prove their settled status in the UK, is another successful example. It's powered by Canada's WorldReach Software, a specialist identity verification company with long experience of passport control, immigration and border management.
Forrester looked at how Adobe's Experience Cloud helped the organisations it surveyed save time and money. By using Adobe products, the composite organisation cut IT involvement by 75%, and reduced the cost by 30%. It also reduced the time spent on regulatory compliance by 2,700 hours, because documents and assets created with Adobe's products have compliance built in.
There's also the issue of compatibility with other solutions. Legacy IT is unavoidable, so any new solutions have to work with existing systems. As Forrester put it, "IT teams avoided work [thanks to] Adobe Experience Cloud's support for integrations with a wide range of CMS and workplace technologies, including Microsoft solutions."
There's more to this than saving money
Modernising the customer experience is directly linked to modernising the technology used to create it. It will not be possible to create a paperless NHS, HMRC or DWP using the systems in place today, and unless wholesale adoption of digital document and signing technology is achieved, it will never happen.
The technology exists to achieve these ambitions, and experience from the US shows the immense benefits of what are relatively easy changes to make. They're also hugely cost effective, providing an enormous return on investment.
And it does not have to be a disruptive, difficult process. Products such as Adobe Acrobat Sign are in widespread use across the globe – they're easily available and easy to use. It doesn't (and indeed shouldn't) require time-consuming and expensive IT involvement. The fact it doesn't is emblematic of the ease with which such systems integrate with legacy technology, and how straightforward they are to use.
Forrester estimated that by using Adobe Acrobat and Experience Cloud, its composite organisation saw benefits worth $6.25m. But there's much more to these benefits than can be measured on a spreadsheet.
Using ready-built solutions helps to overcome the digital skills gap, a major barrier to creating better experiences. In Adobe's 2022 Public Sector Digital Trends report, 61% of public sector staff say their organisation lacks critical skills. Technology that's easy to set up, use and maintain goes a long way towards addressing this issue.
The intangible benefits of improved customer experience are just as, if not more, important, especially when we're talking about services that people rely on. Better service means better outcomes, and when those outcomes are the life chances of school children or benefits payments to those in need, good customer experiences really matter.
You can now download the full report, including detailed calculations.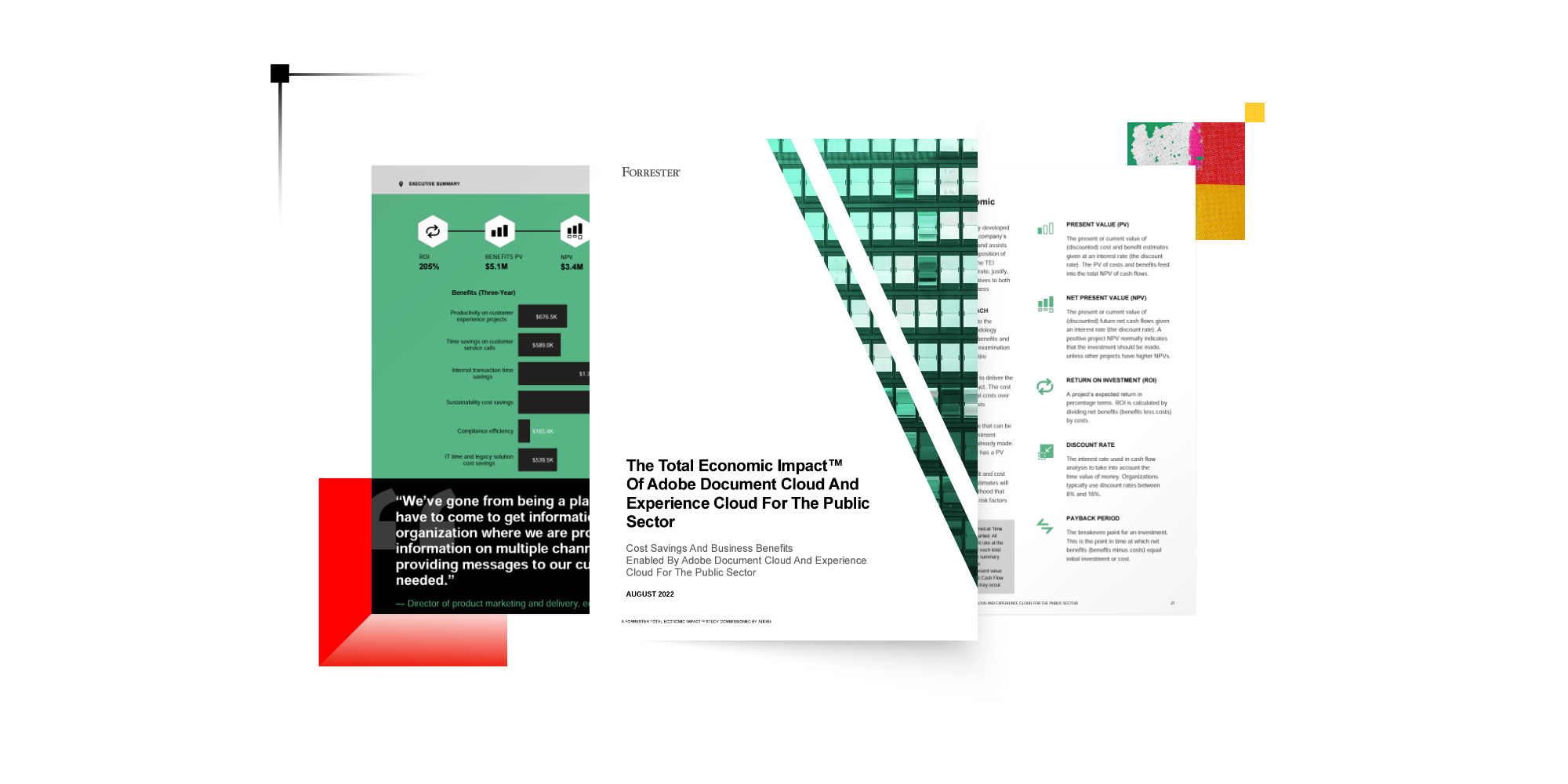 Bev Wright
Head of UKI Public Sector, Digital Experience at Adobe