After the Government ICT Virtual Summit on 21st January 2021, we caught up with the Deputy CEO and Co-Founder of Content Guru, Martin Taylor, to hear his take on what's next for citizen communications in the public sector.
How has the pandemic and the resulting lockdowns affected citizen communications?


I think we're all tired of hearing the word 'unprecedented' applied to the last 12 months, but the word does accurately describe to the rate at which citizen engagement operations have evolved over the past year. In the years before the Coronavirus crisis struck, citizen engagement departments were slowly moving towards the flexibility of cloud, and starting to implement automation. Now in 2021, migrating citizen engagement operations to the cloud has proven itself to be the only way for public sector organisations to keep up with the spikes in contact traffic, and the immediate requirement for homeworking, demanded by the pandemic. Similarly, the use of automation and AI technologies has skyrocketed. COVID-19 has caused a digital revolution that has compressed three to five years of progression into one.
What have been the main changes to citizen communications over the last 2 years?


Over the past several years, the private sector has lead the way in the contact centre and customer engagement space. As consumers, we expect a high standard of customer experience from the brands we use. Our expectations include the ability to contact a company wherever we are, whenever we like, and on whatever channel we choose. As citizens, we now have the same expectations when contacting a public sector organisation. Citizen engagement departments have had to keep up, by offering more and more channels, and an always-on service that includes self-service options. More often than not, this aspect of the service is offered through digital channels. By using digital channels to communicate with citizens, public sector organisations can take advantage of the benefit of faster query resolution, and opportunities for implementing self-service and automation.
More public sector bodies are embracing automation technology in the last 24 months, how can Content Guru help local and central governments accelerate this change?

Implementing automation is absolutely key to delivering the high standards of communication and engagement that citizens now expect from the public sector. Content Guru's extensive AI and intelligent automation toolkit comprises of both process-improving, back-end automation, and sophisticated artificial intelligence tools, including Natural Language Processing, chatbots, and image recognition functionalities. We have a long history of helping our clients to embrace automation. Our cloud-first contact centre solution is able to integrate into any third-party system, and can easily layer over an organisation's existing infrastructure. This allows our clients to make the most of their legacy investments, whilst keeping their service standards at the cutting edge. Crucially, this form of deployment doesn't require the disruption to service that rip-and-replace tech updates can cause.
What challenges are citizen communications due to face in 2021?

The challenges of the past 12 months will continue to impact public sector organisations more than ever as we head into the first part of the new year. However, as organisations become more and more used to the new ways of working required by national lockdowns, we'll start to see less reactive action, and more proactive planning. Many projects that were put on hold in 2020 will be restarted, and those organisations who still haven't moved their communications estates to the cloud will do so as a priority.
However, all of this new development will have to be done against the wind, as it were. As the nation enters an economic downturn greater than the 2008 financial crisis, public sector organisations will have to work hard to ensure their citizen engagement services are future-proofed, whilst working within the confines of their existing resources. This is where automation will take centre stage, as it allows contact centre leaders to streamline their processes, and make the most of their existing resources, whilst offering citizens a higher standard of service.
The benefits of automation, including increasing operational efficiency, streamlining processes, and reducing costs are clear – but how can we maintain the human element in our automation?

In the contact centre space, we often encounter those who are worried about the effect that automation will have on jobs for human agents. After all, implementing automation seems like the obvious way to streamline processes, whilst reducing resource. However, in order to deliver the best possible service experiences, we always recommend a blended approach that balances the human and the machine.
There are several ways to strike this balance. The first of which is through multi-function interactions. Efficient, high-quality interactions can be delivered by both human and machine agents together. For example, an interaction could be started by a chatbot, passed over to a human agent when needed, and passed back to the chatbot to close off the conversation. The second way in which to strike this balance is by implementing automation that augments the performance of the human agent. This removes repetitive tasks from agent workloads, allowing them to focus on complex enquiries. For example, by integrating AI into their back-office databases, organisations can automatically screen-pop relevant citizen data to an agent before they take on an interaction.
When developing emerging technologies such as AI & Chatbots, it is important to consider data ethics and security. How does Content Guru ensure that all information is secure when using chatbots?


As an operator of services that form part of the UK's critical national infrastructure, compliance and data security have always been a top priority for us. ISO27001 and ISO9001 accredited, our contact centre solution's data security features ensure that, even when agents are working from home, all interactions and citizen data are entirely secure, and compliant with industry regulation. Two-factor authentication login and IP whistling limit access to sensitive data to approved users, whilst our industry-leading payment solution allows organisations to take phone payments that are entirely PCI-DSS Level 1 compliant. Our data security features are omni-channel, meaning that data acquired in chatbot interactions is protected by the same cutting-edge security features that operate on human-driven channels.
Content Guru are partnering with the Digital Government Virtual Summit, 13th May 2021. To meet with the team, register your place here or download some free resources from Content Guru.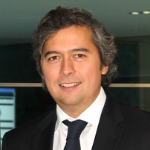 Martin Taylor
Martin Taylor is Deputy CEO and Co-Founder of leading contact centre technology and omni-channel cloud communications provider Content Guru. Since co-founding the company, which services hundreds of the world's largest organisations, including Rakuten, Serco, and the UK's National Health Service, Martin has remained at the forefront of innovation in contact centre technology. His role centres on strategic market development, and heading the Group's healthcare and public sector practice.