Ahead of the Digital Government Conference on 18th May, we caught up with Nadira Hussain, the new CEO of Socitm to ask some important questions on the future of Socitm and how to foster a culture of innovation in the public sector!
To start off, can you tell us your most played song?
Only one? I'm going to struggle…. If there was a long list it would be 'I want to dance with somebody; Whitney Houston', 'Dancing queen; Abba' and 'Annie's song; John Denver', 'When doves cry'; Prince. I am going to have to go with 'Livin' on a prayer; Bon Jovi'!
Improving the visibility of women more widely across the sector is something you are passionate about, how has this evolved since the introduction of 'Women in IT' and the 'Empowering Women in the Digital World' programmes?
I am absolutely passionate and committed to creating more visible women role models both within the Data, Digital and Technology (DDaT) profession and the sector. I've also been keen to establish supportive networks for women to enable them to connect with other like-minded colleagues, provide a safe environment where common barriers and challenges can be discussed and facilitate opportunities to set up a talent pipeline. This ambition has developed through working within the profession and sector for the last 25 years. I've seen first-hand the importance of providing the necessary vehicles to enable practical, tangible and supportive actions for women, given the poor perception of the profession being a suitable one for women, the gender imbalance and the lack of women in positions of responsibility.
I established Socitm's 'Women in IT' initiative during my presidential term in 2015/16. This was an obvious choice given my experiences. The 'Empowering women in a digital world' (now titled 'Empowering women') programme was created as a result of the initiative. It's fair to say that this flagship programme has enabled Socitm to deliver huge success in overcoming the obvious gaps that I refer to above, in particular within the local government environment. We have spent the last few years delivering a programme that helps women personally develop, improve their confidence levels and connect within cohorts that help to nurture and support them, offer mutual benefit and help to champion their ambitions. We have seen women thrive in these conditions – participating in activities and events that they wouldn't ordinarily, becoming active participants and contributors to Socitm events and within their regional committees, acquiring career progression opportunities and seniority too. We've also facilitated this movement through establishing a proactive and engaged Alumni community which meets regularly through quarterly coffee hours and an annual event. It's absolutely phenomenal!
Do you think there is a difference in male and female leadership in the technology sector, and if so what differences have you observed?
I actually do think there is an obvious difference to the way in which men and women deliver in technology-related leadership positions. Women tend to be far more compassionate, collaborative, empathetic and nurturing – more akin to 'servant' leadership. They work on the basis that their success is predicated on the success of individuals and their teams. Men tend to be more task-oriented and directive and often work on the premise that a 'command and control' or 'hero' leadership model is more suitable.
The response to the pandemic and the adoption of revised ways of working has started to help with addressing some of these more prescriptive styles, with a move to empowering and supporting the workforce as a priority focus.
My personal experience and recommendation is to lead authentically; always remain true to yourself. Adopting a leadership style that facilitates team-working and collaboration, creates an environment where colleagues feel valued and one where psychological safety is paramount, resulting in improved trust, cohesiveness and productivity.
Congratulations on your appointment to Chief Executive Officer, what does the future hold for Socitm?

I'm delighted and humbled to be given the opportunity to lead the society into its next phase of maturity. We've spent the last few years embedding better governance, improved processes, developing our communications and marketing capability and establishing robust strategic partnerships. We now want to capitalise on this investment to really help create a membership organisation that is far more engaged with its members, adopting a 'members-first' mentality. We will continue to refine our products and services to ensure that they meet the needs of our users to facilitate better community-based outcomes, signpost and share best practice, foster collaborative working practices, and use our expertise and experience to continue to influence change across the wider sector and in facilitating the sector's single voice to central government - this point, in particular, is really important for us. This is evolution rather than revolution of course!


We're keen to ensure that 'Socitm connects' its communities of practice and is able to continue to support and promote its mantra of 'simplify, standardise, share and sustain'.
What is the most critical element needed for public sector organisations to become more digital?
This topic in itself is both interesting and challenging in equal measures. We still continue to have the debate as to what 'digital' means and whether or not it is the most appropriate term to reference the adoption of transformed working practices enabled through the use and adoption of emerging technologies, data insight and improved processes.
With this in mind, I still believe that we still have some work to do to raise awareness about the benefits and outcomes we can achieve using digital solutions, specifically for senior stakeholders, who need to advocate and champion the approach to deliver transformative change. This is an opportunity to help create cultural confidence, signpost 'What Good Looks Like' (WGLL) and enhance capability through providing digital acumen and skills. It also involves dispelling myths – digital is far more than technology, it is a wholesale shift in 'how we do things around here' to deliver better and more streamlined public services.
How can senior leadership teams within Central & Local Gov. foster a culture of innovation?
We have to continue to find ways of working more collaboratively, as demonstrated by the initiatives that we are jointly working on with the Department of Levelling Up Communities and Housing (DLUCH), the Department of Digital, Culture, Media and Sport (DCMS) and the Government Digital Service (GDS) – initiatives and projects such as the Local Digital Declaration, Connected Places and digital identity to enable sharing of best practice and 'what works well'. This is an easy way to share experiences, foster innovative approaches and celebrate successes across local and central government.
Complimentary to this are some practical aspects such as the adoption of agile working practices, signposting WGLL, understanding the 'art of the possible' through using emerging technologies and data in an ethical manner, prototyping and establishing proof of concept initiatives and developing the appropriate capabilities and skills to enable innovation and transformative change. We need to use these means to build trust across the sector. Finally, of course, the allocation of funds to undertake investigative work and identify innovative solutions always helps!
Can you provide some top tips on driving digital transformation in the public sector?
Let's drop the emphasis on 'digital' and 'transformation' and focus on the fact that as public sector professionals our primary ambition should be:
Harnessing digital – cultures, capabilities, technologies, and data – to enhance the resilience of and improved outcomes for people, organisations, communities and places.
To hear more from Nadira, why not register for the Digital Government Conference, taking place on 18th May 2022. Nadira will chair the Citizen Experience stream, and discuss "The Vital Role Local Government has Played in Response to the Covid-19 Pandemic and Beyond" alongside William Barker, Associate Director/Digital Ethics Lead, Socitm.

Registration is free for the public sector!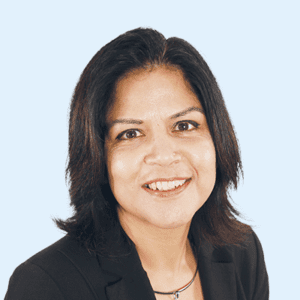 Nadira Hussain
As President of SOCITM (2015/2016), Nadira focused on two key areas: the primary one being the 'Women in IT' (WIT) initiative – to attract more women into the Society, supporting the provision of personal development opportunities through the successful launch and delivery of the 'Empowering Women in the Digital World' leadership programme and improving the visibility of women more widely across the sector. The second was exploiting ways in which local government can improve service delivery and value for money through sharing. Nadira has continued to champion the WIT initiative to build on the great momentum realised, with the focus turning to how we attract young girls and 'career returners' into tech and the public sector.