Government organisations are big ships to steer. And when it comes to digital transformation in government, progress can be slow. Enter the DXP.
A 2022 UN E-Government Survey report focused on the impact COVID-19 had on highlighting the need for effective digital services. Despite it finding that United Nation Member States have shown signs of an increasing urgency brought on by COVID-19, it also found that 'overall e-government development has not gained significant momentum over the past two years.'
But the digitisation of government services is advancing as new technological capabilities come online, making it much simpler to transform legacy systems. In February 2023, for example, the Australian Government announced a hard push to further link the private and public sectors through digital transformations to create a 'national digital identity system'. And there's a thirst for this digitization.
Research from Accenture found that:
69% of participants want easier interaction when dealing with government digital services
53% want a single portal for multiple services
56% want personalized information from the Government


The goals of government digital transformation
The goal of government digital transformation is to improve how people access public services and how those services are delivered by creating a more resilient, agile, and responsive public sector.
The key to the success of any government digital transformation strategy is to make sure people feel like this digitization creates a more transparent and accountable relationship with governments. By leveraging digital technologies, government leaders can streamline operations, reduce costs, and improve decision-making through data-driven insights.
What digital transformations look like for governments
Government digital transformations can be broken down into a range of approaches.
Digitisation of services: Converting manual or paper-based processes into digital formats, such as for people applying for support services, and adopting cloud technologies for public data storage.
Automation: Implementing new technologies like artificial intelligence and machine learning to automate repetitive tasks and reduce human errors.
Data-driven decision-making: Utilizing big data, predictive modeling, and real-time monitoring to inform policy-making and resource allocation. Especially during times of natural disasters where significant data sources can be analyzed to save lives.
Cybersecurity: Establishing stringent security measures to ensure public safety and protect sensitive data, systems, and networks from cyber threats.
Digital skills development: Investing in training programs for public sector employees to acquire the necessary digital skills, promoting a digitally literate workforce.
Citizen engagement: Leveraging the capabilities of Digital Experience Platforms (DXPs) to facilitate two-way communication between the government sector and the public, encouraging collaboration, feedback, and active participation in the decision-making process.
Open government: Adopting open data, open standards, and open-source technologies to promote transparency, accountability, and collaboration – ultimately improving public sentiment and trust.
Cross-sector collaboration: Fostering partnerships between the public, private, and non-profit sectors to share knowledge, resources, and expertise.
Change management: Implementing strategies to facilitate the successful adoption of digital technologies and processes, addressing potential resistance, and promoting a culture of continuous improvement and innovation.
What are the benefits of digital transformation in government?
The benefits of digital transformation have changed over the years as the capabilities of AI, DXPs and other advanced technologies have increased.
Increase efficiencies – Cognitive tasks, such as natural language processing, image recognition, and information sharing can be increasingly automated with the use of AI, APIs, DXPs, chatbots, and virtual assistants, and even Internet of Things (IoT) devices. IoT can help the public access and use services in new ways. For instance, the Australian Government's long-term digitization of the tax system led to major efficiencies for everyday people. By 2020, only 5% of individual tax returns were lodged on paper.


Greater job creativity – By automating repetitive, time-consuming tasks, employees can focus on more value-added activities that require critical thinking, creativity, and problem-solving skills. This shift in focus can lead to improved morale, as resources are allocated more strategically, and decision-making is enhanced through data-driven insights.


Better citizen experience – Australia's long-term Digital ID program intends to simplify customer experiences – from accessing financial support to passport applications – through the secure sharing of relevant data. Improving access and experiences of services is key to digital transformations, as it improves public sentiment towards governments by improving outcomes for the public.


Centralise data – This helps governments keep important information safe, communicate across departments more easily, analyze data, and make smarter and faster decisions while lastly laying the foundation for future technology integrations.


Reduce operational costs – Simplified processes reduce the time it takes to process services while centralizing data management reduces the cost and need for multiple data storage and management systems. The increased use of APIs is core to this centralization of information, consolidation of processes, and integration of services to ultimately create savings. The United Kingdom's HM Land Registry, for example, is dedicating 75% of its budget to the digitization of its records and services, with 90% of its processes automated today and aiming for 98% by 2025. This will have major impact on its operational costs.


Make smarter decisions – By adopting a data-driven approach, governments can gather, analyse, and interpret vast amounts of information in real-time. This helps them to identify patterns and potential areas for improvement. Digital tools and capabilities such as automated predictive modeling can further enhance decision-making by automating complex analyses and offering insights into potential future outcomes.
Challenges faced by governments during their digital transformation
While technological restrictions have kept digital government transformation at bay, so have other factors. Gartner's recent survey findings suggest that governments are still struggling to move quickly, with these top challenges holding back progress on digital transformation projects:
Organisational silos – were rated the top challenge by 23% of government CIOs in the survey. In the US, a recent survey of federal government executives found that one in ten struggle to collaborate between departments. The core reason for this was a risk-averse environment amongst lower-level managers, where self-imposed behaviors lead to boundaries on whole teams that hamper the cross-pollination of ideas and capabilities. The solution to this is twofold: shifting environments and behaviors to support more creativity, and secondly leaning on the capabilities of digital transformations to support healthier workplace environments.


Risk-averse cultures – 17% rated culture and fear of change as a top barrier to progress. A study by the Australia and New Zealand School of Government (ANZSOG) revealed previously a 'creeping crisis of risk aversion' in the Australian government, with only 40% of respondents believing that senior management would support 'new ideas'. (This same study highlighted that lack of innovation was also a direct cause of a widening digital skills gap in government).


Lack of resources – according to Gartner, government CIOs continue to face budget constraints, insufficient staffing, and inadequate skills. This resource scarcity often leads to the prioritization of short-term goals which can hurt the overall progress of transformation efforts. To overcome these constraints, Gartner suggests that government CIOs should focus on building a strong business case for digital transformation by demonstrating its potential benefits and remaining agile to get the most out of sporadic funding opportunities.


Digital skills gap – successful digital transformations across the public sector require upskilling for employees, from using actual tools included in a DXP to understanding the principles of UX or content strategy. Gartner identifies that governments need to give employees the chance to explore new pathways in their careers. This can lead to an increase in core capabilities across enterprise architecture, cybersecurity, cloud, analytics, and digital experience design.


Lack of IT resources – Gartner notes that employees can get all the exposure they need using low-code digital platforms. However, they state that 'it takes a lot more to prepare them for complex digital business environments.' Experienced IT resources who can actually adopt, build, manage, and scale these new digital systems are key to successful digital transformations. A lack of these skills remains a challenge.
How DXPs can help digital governments implement their digital transformation
DXPs can deliver operational improvements that transform how governments interact with citizens, businesses, and employees. A DXP promotes a more seamless and consistent experience across all digital touchpoints, making it easier for users to use government services. Additionally, DXPs help governments quickly and effectively make data-driven decisions, ensuring continuous improvement and adaptation to changing needs.
Searchable information
Search can be implemented to index multiple sources of information and retrieve data from multiple sources such as government websites, directories, and databases.
This enables the public to easily find relevant information, especially when there is a large amount of content or a complex user journey for them to discover specific content. For example, a government agency could use this feature to provide a centralized search for various departments and services.
When Wellington Council sought to replace their Google Search Appliance, they were aware of the importance of their DXP solution offering a smooth transition for the large number of people who accessed their search.
The search tool they implemented within their DXP migration now not only indexes content from their own website but also incorporates information from other specialized sites. This helps them enhance users' search experience and provide more comprehensive results.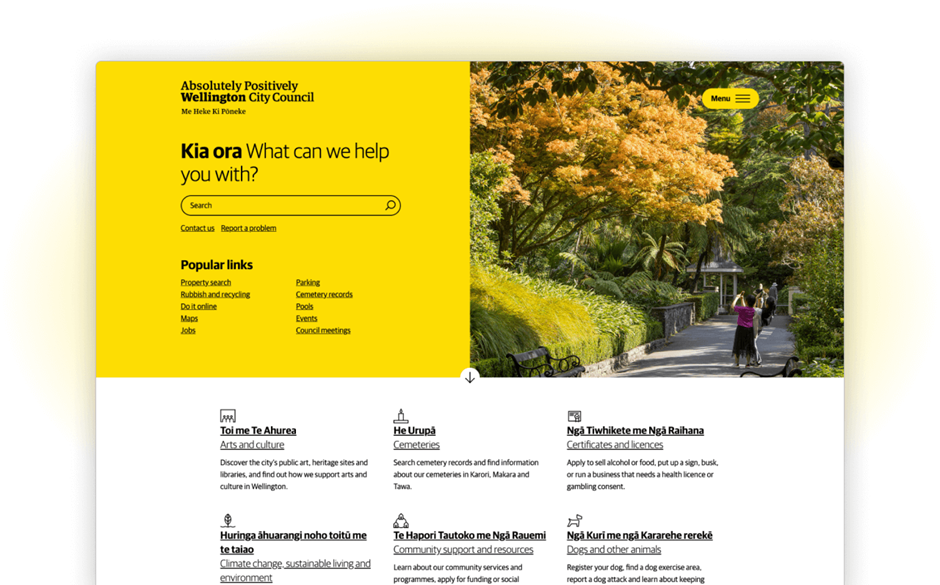 Improved self-service
Integrated systems allow organizations to offer enhanced self-service options to their customers.
On one end, local governments can implement query forms for basic tasks like scheduling bin pickups or booking services. On the other, federal governments can create more advanced self-service portals that enable users to complete tasks without direct assistance, saving time and resources.
Digital self-service transformations make a real impact on people's ability to access vital information and services. In 2019, Centrelink customers conducted 207.4 million digital self-service transactions – a 25% increase since 2017. This was compared with Medicare, which saw only 20 million such transactions that year.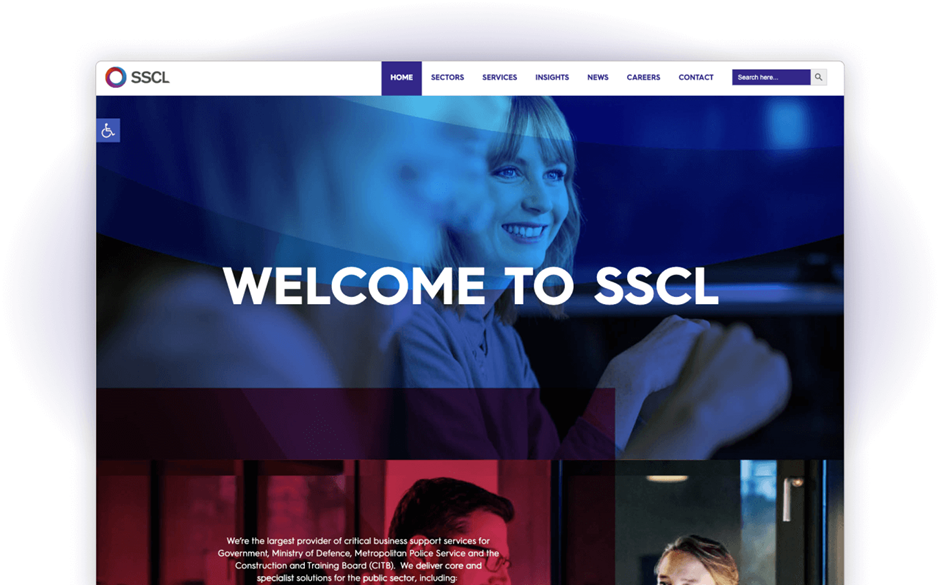 In 2019, ​​Shared Services Connected Limited (SSCL) – a joint venture between the UK Cabinet Office and global consulting firm Sopra Steria – engaged Squiz to build nine hubs. They were spread across two instances of Squiz DXP. This helped simplify access to information and self-service across 29 UK government departments.
A complex project, phase one delivered a myHub system where users benefit from improved wayfinding and search guidance to the right information, form, or action, with additional light personalization for logged-in users. Phase one saw hundreds of thousands of government employees accessing the myHub system.
Proactive decision-making
Governments are able to identify and even anticipate surges in the needs of their citizens and deliver services proactively. They can do this as the storage and analysis of data have become increasingly granular and sophisticated through DXPs.
Identifying a range of restrictions and complex processes in the management of their existing CMS, Country Fire Authority upgraded to a DXP solution. Their website now presents crucial, location-based information for Victorians in a user-friendly way, combining bushfire safety and alerts. Thanks to their ability to integrate diverse data sources, they can more easily adapt content according to seasonal weather changes and emergency events.
Faster service delivery
With a DXP, it's easy to spin up a new website or microsite that incorporates the style brand of the overall government. A single update on a component can reverberate through all the different websites of a government agency, instead of having to manually update each one of them. This is achieved with capabilities like templates, pre-configured components, and headless architecture.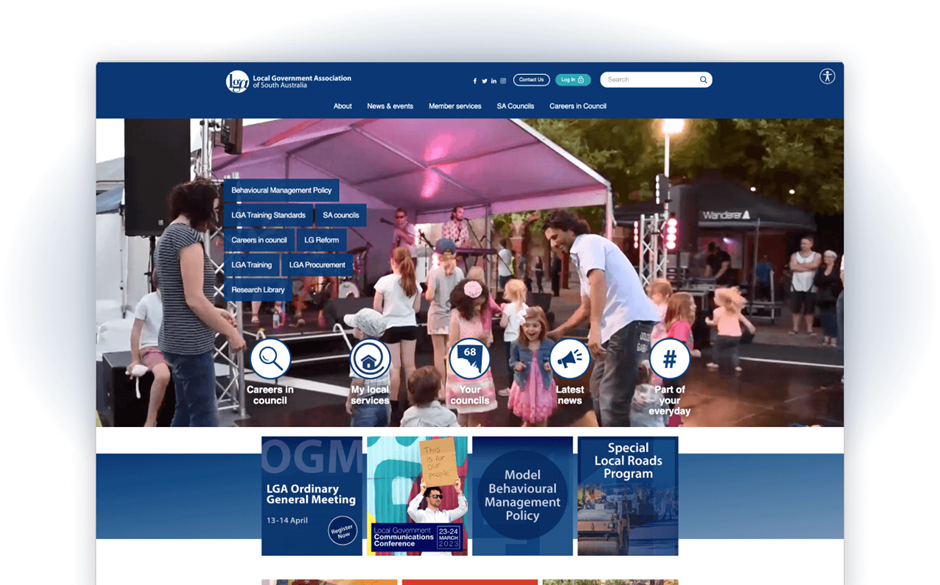 The Local Government Association of South Australia had over 130 government websites it needed to manage, and it came to Squiz when its CMS came to the end of its life cycle. Representing over 60 councils across South Australia and Tasmania, LGA needed a solution that could help them handle a large volume of digital content. They also needed it to cater to both small and larger organizations, adapting to unique design and content requirements.
The Squiz team provided more than 40 adaptable interface elements and templates that could be individually improved and implemented by each client on their respective websites.
Improved member engagement
Digital transformations can boost a government's member engagement. Easier conversations with citizens, personalized content and services, greater accessibility, and more convenience can all help achieve this. DXPs make it easier to seek feedback and leverage data analytics to make better decisions and continuously refine engagement strategies.
GESB is a WA Government statutory authority with over 80 years of experience managing and administering the super savings of current and former public sector employees.
They approached Squiz to achieve three objectives:
Transfer all paper forms and business processes online to increase efficiency and customer satisfaction.
Provide a high-quality search experience to assist members further.
Deliver personalized and segmented content on their website to create a seamless and engaging member experience.
Following the implementation of Squiz DXP, 73% of members rated their experience with the new website as 'very good' to 'excellent'.
Scalable, smart security
Instead of trying to manage multiple systems that all present their own security risk, a DXP helps government agencies manage security more efficiently through its robust architecture, which is designed to protect sensitive data and handle potential threats.
By implementing Single Sign-On (SSO) capabilities, a DXP streamlines authentication processes, reducing the risk of unauthorized access while simplifying user experiences.
This centralised approach to security management helps governments maintain control over their digital assets, swiftly respond to incidents, and ensure compliance with necessary regulations.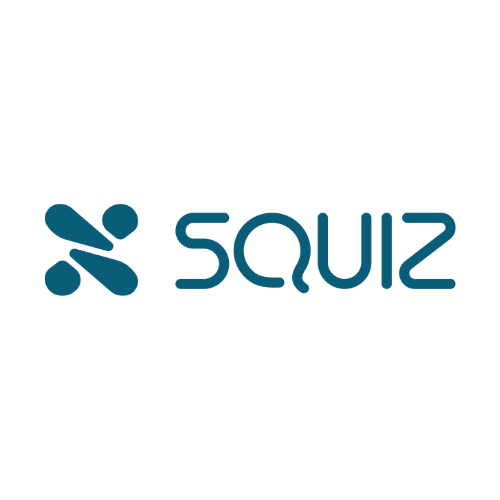 Squiz
Founded in 1998, Squiz is a leading Gartner-ranked Digital Experience Platform (DXP) company. We serve 230+ government customers in North America, EMEA, and APAC at local, city, state and federal levels. Squiz DXP is designed for lean teams in complex organizations. We help you to build brilliant experiences fast; across websites, portals, intranets, apps and more. Partner with us to unify fragmented customer journeys, deliver personalized experiences, orchestrate and reuse content across sites, automate manual processes, and increase accessibility. Unlock flexibility to use existing tech alongside Squiz, managed from a single platform. Embrace change with confidence, with no vendor lock-in.