Citizens are both the 'Why' and the 'Who'. It is citizens who get to decide both national and local policies through their selection of our political leaders. It is citizens to whom elected members must answer to and convince to elect or re-elect them. And it is citizens who are the ultimate recipients of our services.
Understand how citizen behaviours are changing
While ease of use and cost-effectiveness are quantifiable, it is still mostly a perceptual measure which means we really need to understand what citizens mean when they say something is easy to use and what is considered cost-effective.
Polling by DEMOS late last year suggests that 52% of people support or strongly support the idea of the government "spending a lot more on preparing for potential future disasters, even if they are unlikely to happen and money would be wasted if they do not happen".
There is even support for increased taxation to improve services.
We have also seen how radically behaviours can change and normalise. Online shopping was common before Covid, but it is now ubiquitous. If only I had bought shares in Amazon.
Co-design your future
We need to understand our citizens more, and not make assumptions based on patterns of behaviour prior to the pandemic. We have worked with several councils and their citizens to co-design new service delivery models and support technology. The feedback is often surprising but always valuable. Working with citizens we have discovered ways to reduce non-completion of processes with the repositioning of a button, creating natural language voice automation for those that still prefer to speak to the council and adding more modern channels like WhatsApp that allow a wider range of people to access services, whatever their circumstances.
Co-design also gives us the opportunity to explain how new technologies work, delve into the cyber security challenges citizens perceive there might be and understand their concerns about data use.
Done well, co-design can create ambassadors for your service design and give other citizens some assurance that the solution arrived at is both easy to use and effective.
Digital transformation is more than just technology
In talking to CEOs and Leaders about potential reforms, asked them what their key challenges were. Of the 200+ issues raised vision, skills and data were the top concerns.
Again, not so much the how. But the why and who.
Digital transformation, any transformation, in fact, is reliant on four things:
Purpose
Process
People, and
Passion
Without a clear purpose, we lack the signposts along the journey that allow us to make coherent choices as circumstances inevitably change.
I also think that we need to be clear in ensuring that our citizen outcomes, make it easy to use and cost-effective, are woven in from the start. Cost out as the sole reason for the change is unlikely to bring citizens on the journey with you.
Process
I think process belongs before people as I believe that in most circumstances you need to select the people who can align to your purpose and have the capabilities needed to deliver the process.
If we are to make the most of the opportunity before us, transformation must include a rethink of the underlying process.
In digital transformations, conversion of a bad analogue system into a digital one will just help you get in a mess much faster.
Many cloud migrations have failed to deliver on their original business cases as the opportunity to rethink the process was not taken.
As a minimum, we would be considering what can sensibly be automated to free up officer time for more valuable activities.
We must also be ready to transform our systems at a quite basic level. Take some steps outside the box and even our council boundaries.
For example, the Scottish Wide Area Network provides 90 organisations, including 50% of the country's local authorities, with access to a unified network and applications - providing savings of £30m.
But the real value has been to its users. One network means healthcare workers no longer need to carry around two laptops. Data about patients are more easily shared securely and multi-agency responses are more joined-up.
People
For transformation to deliver over a period of time, you need to transform mindsets and attitudes. You need the right people to do this.
Covid has helped boost the acceptance of digital, but there are still areas of misunderstanding that could limit the positive impacts of change. Automation is one. AI another.
At Capita, before we tried to convince our customers of the benefits of automation, we would need everybody in our teams to be on board. And once the initial fears of us all being replaced by robots were put to bed, we had an outpouring of ideas, high adoption rates and people excitedly sharing with customers what could be achieved.
Whether it be one of our CEO email bots that helps enquirers get responses far quicker than would normally be possible or smart systems that reduce benefit claims assessment or grant applications from days to hours, you need people with the right mindset to champion your transformation.
Passion

Digital transformation must be felt. It needs some passion in its delivery
We see this more often where transformation is accompanied by a move to high-performance cultures. A culture where we have focused on the outcomes for citizens or customers.
Progress must be personal

Lastly then, progress must be personal.
Where we have worked with authorities to improve the revenues and benefits process, we considered how we can make it as easy as possible for citizens and officers. What channels should be included? What data do we need to draw together to resolve a query in one interaction? How do we help officers spend time on complex cases? What can be automated to allow better access and speedier resolution?
With a focus on better outcomes for citizens and officers, we also got to a place where we could reduce the cost to serve by 30-50% as well.
Progress must be inclusive

But what about those who can't access our portal or app?
There are still far too many people out there in our communities having to make choices about buying data to apply for jobs online or buy food.
Capita has recently partnered with the Good Things Foundation and, in addition to funding advisors to work directly with citizens, we are working with them and combined authorities to create a Blueprint for Digital Inclusion.
This is an important subject that we all need to keep front of mind and I would urge you to join Good Things Foundation Chief Executive, Helen Milner, tomorrow as she explores this important topic in more detail.
Progress should be focused on better outcomes


If our transformations exclude certain groups or individuals, we miss the opportunity to deliver better outcomes.
Too often we measure outputs, which is just a measure of work done.
Recently in the news, there was another case of a surgeon removing the wrong limb. The output, a successful removal of a limb, was precise and well done. The outcome was terrible!
Progress is possible but we need to push


Despite the pressures on budgets and rising demand for services. Progress is still possible.
I am under no illusion that you and your team and me and mine are all tired and need a change of pace.
But with our current momentum, we have a better chance at making the changes that will change the pace and free up our people to be more productive and our citizens better served.
Government has proved it can innovate and deliver under pressure


It can deliver in difficult circumstances through sustained periods of uncertainty and disruption. Ensuring bins are collected and protecting the vulnerable while also successfully deploying local contact tracing, grants to businesses and providing much needed clear communication to our communities.
This should be celebrated.
Converting successful crisis operations to sustainable business as usual


The challenge now becomes, how do we convert successful crisis operations into a sustainable model for the future?
How do we sustain the pace of change with burning out people in a sector already squeezed by increasing demand and limited funding to supply?
Innovating our way to productivity


We are going to have to be innovative, take some risks and leap forward if we are to avoid a slide back into what might quickly become a mire of unmet demand from citizens and failure to deliver government promises in the north.
Freeing up people and resources to provide support where it really matters


A virtuous upwards spiral that can impact us nationally.
This doesn't mean officers having to work harder.
In fact, I would advocate the opposite. If the hallmarks of good service are efficiency, cost-effectiveness and care – I would say we need to free up officers to do the caring while technology takes up the strain when it comes to efficient and cost-effective services.
Most citizens would be happy with a single council app that lets them query, transact and resolve in a simple, single journey – with the option to talk to a human being when it's complicated.
Businesses want to be able to get support, apply for grants and deal with rates as quickly and easily as possible.
And we should not expect officers, who could be having helping vulnerable people, to be doing administrative tasks that could be effectively automated.
Progress must be personal


We can influence the design of the infrastructure local and central governments will rely on.
We are the ones making recommendations on approaches to managing data.
We are the ones who can ensure co-design is built into service design.
We are the ones who can challenge accepted processes and seek better ways to do things.
We are the ones selecting platforms and software that will enable our colleagues to spend more time on people than on processes.
We are the ones that can help transform people's mindsets about automation and AI.
We are the ones that can make it successful.
Progress must be personal, but time is running out, and it could be down to you and me.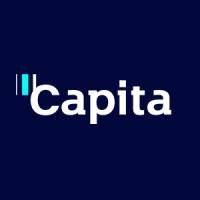 Capita
Capita is a consulting, transformation and digital services business. Every day our 55,000 colleagues help millions of people, by delivering innovative solutions to transform and simplify the connections between government and citizens, businesses and customers. We partner with our clients and provide the insight and cutting-edge technologies that give time back, allowing them to focus on what they do best, and making people's lives easier and simpler. We operate across three divisions – Capita Public Service, Capita Experience and Capita Portfolio – in the UK, Europe, India and South Africa.