The pandemic has meant a particularly challenging year for those working in counter fraud, and now, across the board, central government departments are working hard to measure, understand and recover, where possible, losses arising from Covid-19 related fraud, as well as to implement assurances to prevent money being lost to fraud or error in the future.
This week, the Government Counter Fraud Function released their Landscape Bulletin for 2019-20, highlighting fraud and error losses outside of the tax and welfare system for 2019-20. We caught up with them to summarise their key findings from the report.
You can read the Bulletin in full here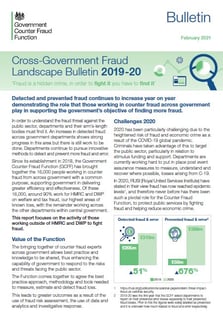 According to the GCFF bulletin, £388m of fraud and error was prevented across government in 2019-20. This is a staggering 676% increase on the 2018-19 total and demonstrates just how much government departments' innovative approach to prevention is succeeding.
Highlights also show that detected fraud and error levels have risen by 51% to £310m and recovered funds money from fraud and error losses , while being the hardest metric to improve, has remained relatively constant from 2018-19, with £92m being recovered across government - a 7% decrease on the 2018-19 total.
From the bulletin, it is clear that although great steps are being made in finding and fighting public sector fraud, there is still work to be done. For this reason the Counter Fraud 2021 conference takes place this week for its 10th edition, in collaboration with the Cabinet Office, as a forum for counter fraud colleagues to share best practice and to boost cross-department collaboration within government. Tickets to join the event on-demand are still available – click here for more information.