In a recent interview, we asked Assistant Commissioner Nick Ephgrave QPM, Front Line Policing HQ & NPCC National Lead Criminal Justice - Metropolitan Police Service how we can attract more people into policing.
Here's what he had to say:
"I don't think we need to attract more people to policing! We've got a waiting list that's miles long. The problem is not so much how can we attract people in, it's how can we persuade people to stay on the waiting list when they have to wait three years for a start date.

The question within the question is how can we persuade more people from minority communities to come into policing. That's actually a very big challenge for us. I don't think will ever be short of general recruits - we never have been I don't think - but we certainly have been trying to increase our diversity of workforce, which I think is well known. The Met really is leading the way, I would say, in terms of representation. I think almost a quarter of all black and ethnic minority officers in the UK are within London and we've got some very bold aspirational targets for increasing this representation*.
The same applies for female officers as well, although we're much further ahead with female representation, especially within the police staff as a whole - which is at over 50%*. I think that having a female Commissioner has also really added some impetus to the work that we're doing in London around bringing the gender gap down.

So in summary, I don't think we need to recruit people generally, but we certainly need to recruit or encourage people from whichever communities have traditionally not seen policing as a career for them - whether that's because of distrust, or it's not seen as a profession - as there are some communities that see it to be a blue-collar, slightly disreputable occupation, because in their country of origin, or in their grandparents generation, that's what it was. Of course in England it's different - a different tradition, a different history. And as these newer communities become more and more established, and not new anymore, then it becomes easier to recruit from them.

Mistrust is a challenge, especially with young black men, and (amongst everything else), we are really focusing our efforts to get more young black man interested in joining the police because that's what we need.
In this respect we're doing lots of things - it is generally called 'Outreach' or 'Engagement' but it is actually a whole range of activities. For example: we're showcasing successful officers from these underrepresented communities as part of a project called #BehindtheBadge, telling the truth about what it's like, what their job is etc. We also do Buddying schemes; we do Mentoring schemes; we offer fast-track for black & ethnic minority officers; we do taster sessions; we do direct entry (which has been very popular among minority communities, actually). The list is long!
There have been all sorts of initiatives going on the last couple of years in the Met which are really driving this agenda, and we hope to continue to make progress as it's very important for us that that happens."



Special thanks to AC Nick Ephgrave for his time and for sharing his insights into the police's recruitment, diversity and inclusion programmes. You can hear more from him and ask your questions direct at this year's Modernising Criminal Justice conference on 23rd June - take a look at the agenda here: www.modernising-justice.co.uk/agenda
---
* As of the Met Police "Workforce data report - March 2021" they have an aspirational BaME police officer representation target of 40%. The milestones on the way to reaching that goal are: 19% representation by 2021/22, 22% by 2023/24 and 29% by 2029/30. At the time of the data report, the Met has a representation of 15.64% BaME police officers, and 26.08% of police staff.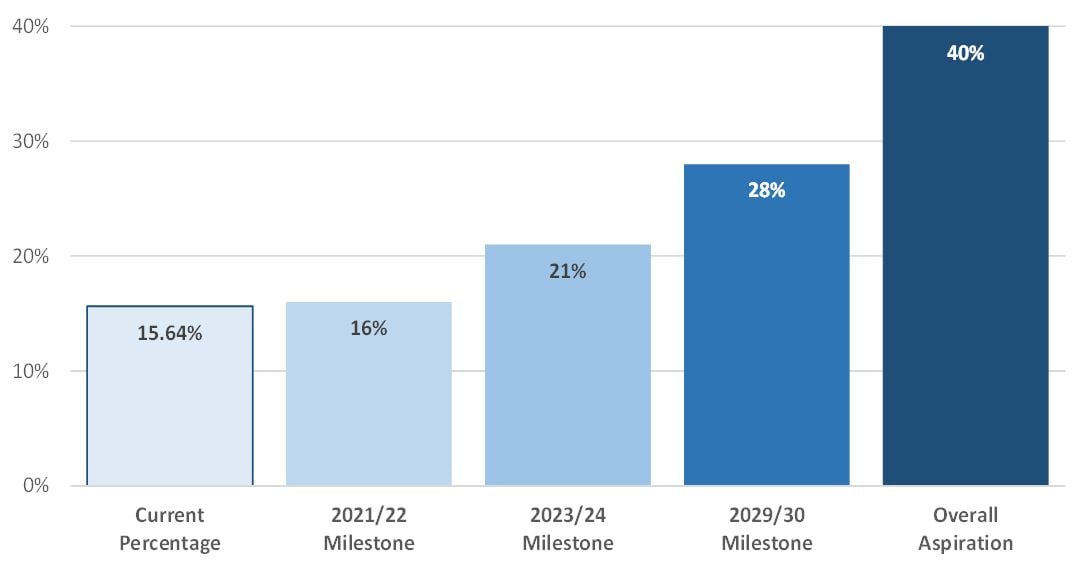 Taken from the same report, the Met Police has an aspiration to have a Female police officer representation of 50%.The milestones on the way to reaching that goal are: 30% representation by 2021/22, 32% by 2023/24 and 35% by 2029/30. At the time of the data report, the Met has a representation of 15.64% Female police officers, and 56.55% police staff.