Promoting Good Nutrition in Schools
By Emily Stuart, apetito Dietitian
When it comes to planning tasty and well-balanced meals in schools, it is important to first consider the nutritional needs of children at various ages, as well as the common nutritional concerns that children can experience during their years at school. Just like adults do, children require a balance of macronutrients (carbohydrate, protein, and fat) and micronutrients (vitamins and minerals) to help them thrive and ensure their nutritional intake enables them to keep up with key periods of growth.
Principles of Good Nutrition in School-aged Children​
At the time that most children start school, around five years old, they are growing quickly. This, coupled with the fact that they often also become more active around this time, makes consuming a varied and balanced diet of the upmost importance. Planning balanced meals for children at school will help to support this period of rapid growth and give children the energy they need to set their learning off on the right foot.
If growing children do not get enough variety in their diet, they can experience the effects of nutrient deficiencies or faltered growth. In fact, current Department of Health guidance recommends that all children aged 6 months to 5 years are given vitamin supplements every day, containing vitamins A, C and D. This advice stems from the evidence that children who do not eat a varied diet often fail to get enough vitamins A and C, and it is difficult to meet vitamin D requirements from food alone. In addition to supplementation, a balanced diet containing good sources of vitamins A and C is important, and moderate (well-protected) sun exposure should be encouraged in the summer months.
A practical way to help schools to focus on good dietary habits in their settings is to consider the nutritional pattern set out in the government's Eatwell Guide. This familiar public health nutrition model is appropriate for most children over 5 years of age and can help you get a balance of healthier and more sustainable food. It shows how much of what you eat overall should come from each food group, for example, sharing the well-known and evidence-based nutrition message that most of us would benefit from eating more fruit and vegetables, more wholegrain foods, and more sustainably sourced oily fish (or alternative omega-3 source for vegetarians).
Of the evidence available that looks at the effect of nutritious school lunches on attainment levels, the focus does tend to be on those children receiving free school meals in a state school setting. Nevertheless, despite these gaps in the research relating to the wider school population, it is broadly agreed that children who are fed well, learn well.
Eating at School: The Environment
To improve the overall experience and benefit of meals consumed at school, we must, of course, consider the nutritional content of the meals, but also the environment in which they are enjoyed. Minimising noise distractions in the dining room, reducing queueing time, playing music, and considering re-organising tables and chairs are all important factors to consider when thinking about your dining experience. Whilst in normal times we can also give thought to providing as much social interaction as possible for children at mealtimes at school, throughout the pandemic this is understandably more challenging. Yet, where possible, it is still advisable to encourage social peer-peer mealtimes to help children link the experience of eating with positive interactions.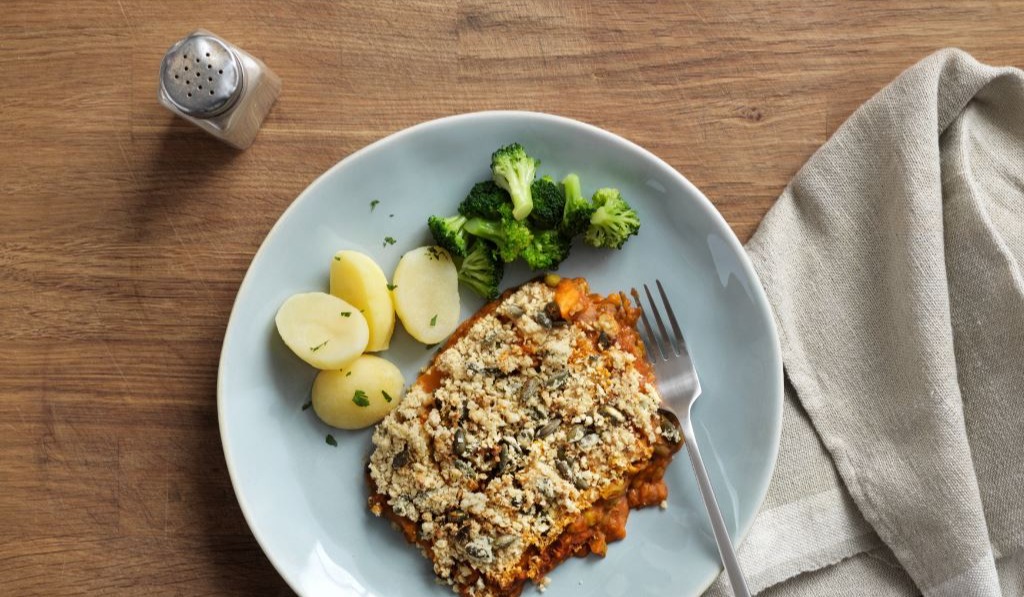 Practical Recommendations for Healthy School Meals​
In the UK we have a National Diet and Nutrition Survey (NDNS) running as a continuous Rolling Programme. The NDNS is designed to assess the dietary habits and nutritional status of the general adult and child population in the UK, with the results from years 7 and 8 of Rolling Programme providing us with the latest insights into the diets eaten by children in the UK. Among the key findings were that, similar to the adult population, children on average are not eating enough fruit and vegetables, fibre, or oily fish; and are generally consuming too much added sugar and higher than the recommended levels of saturated fat. Micronutrients of concern include vitamin D, iron, and calcium, with the latter two being a particular problem among girls. The reasons for these nutrient inadequacies and excesses are varied, although the good news is that change is possible. By making small, but meaningful, changes to the food we provide for children, we can begin to close the gap between what the typical diet of a child looks like, and how evidence shows us it should look.
The School Food Standards that are mandatory in state schools are a good place to start. This practical, evidence-based guidance outlines menu planning considerations to help you meet the nutritional needs of children at their lunchtime meal. For example, vary your fruit and vegetable offerings, ensuring different options, colour, and texture are a primary focus. Ensure to include an oily fish option at least once every three weeks and avoid providing purely cheese-based options for vegetarian children. A variety of protein foods is essential, ensuring not to focus mainly on red and processed meat options to help children reduce their saturated fat intake. Salt should not be available for children to add to their food and the drink of choice should be water or unsweetened milk. Desserts are appropriate after a lunchtime meal and these higher sugar foods should not be demonised. However, sweets and cakes should not be routinely provided between meals and desserts based on at least 50% fruit should also be a regular menu option. Ensuring regular provision of milk-based puddings will help with calcium intake, and in addition to red meat; lentils, beans, and other pulses can provide a good source of iron.
Providing Good Nutrition at Lunchtime
Involving your apetito account manager with planning your school menus can help you to maintain focus on these points. apetito have an extensive product range and a team of dedicated staff who can support you with planning menus including for those needing special diets, sharing our approach to sustainability, and implementing our systems and services. A collaborative approach to menu planning and school catering is essential. Consider involving other school staff outside of the catering team, including parents, and crucially, the pupils. Children want to know more about their food as much as adults do and if we can involve them in decision making it is a firm step toward improving their knowledge and appreciation of food, thus setting them up for a healthier attitude toward food and nutrition for life.
To find out how apetito can support your school, please visit www.apetito.co.uk/school-meal-services/