Following on from our recent post announcing the launch of Modernising Criminal Justice 2021, our team has been working hard to put together a compelling agenda that addresses the key issues shaping the criminal justice sector today. This important task has taken on even greater significance in light of COVID-19 and its continuing impact across the entire sector.
In Conversation with Dame Vera Baird QC
The 2020 virtual conference - which was moved from June to November due to the ongoing pandemic – certainly did just that, including insightful presentations from leading figures including Lucy Frazer QC, Minster of State, Ministry of Justice on current investment in the prison system, and Gemma Hewison, Strategy & Change Director for HM Courts & Tribunals Service (HMCTS) on progressing with court reforms. The day's proceedings were drawn to a close by a brilliant keynote session, "In Conversation with Dame Vera Baird QC", currently the Victims' Commissioner for England & Wales.
Appointed in June 2019 for a three-year term, Dame Vera is responsible for championing the interests of crime victims and witnesses and reviewing the operation of the Victims Code of Practice (the Code). The Commissioner's role is independent of government, although she was appointed by the Justice Secretary, in consultation with the Home Secretary and Attorney General, through an open recruitment exercise.
Dame Vera's interview with David Ormerod QC, Professor of Criminal Justice at University College London, proved to be hugely popular with attendees, with many citing it as the highlight of the day in their post-event feedback. During the session, she discusses her early days as a barrister and having to tackle sexism within the system, the importance of her experience when taking on roles that focused on policy development, her time as a MP, and her role in taking the Equalities Bill through the House of Commons.
Watch the interview in full here: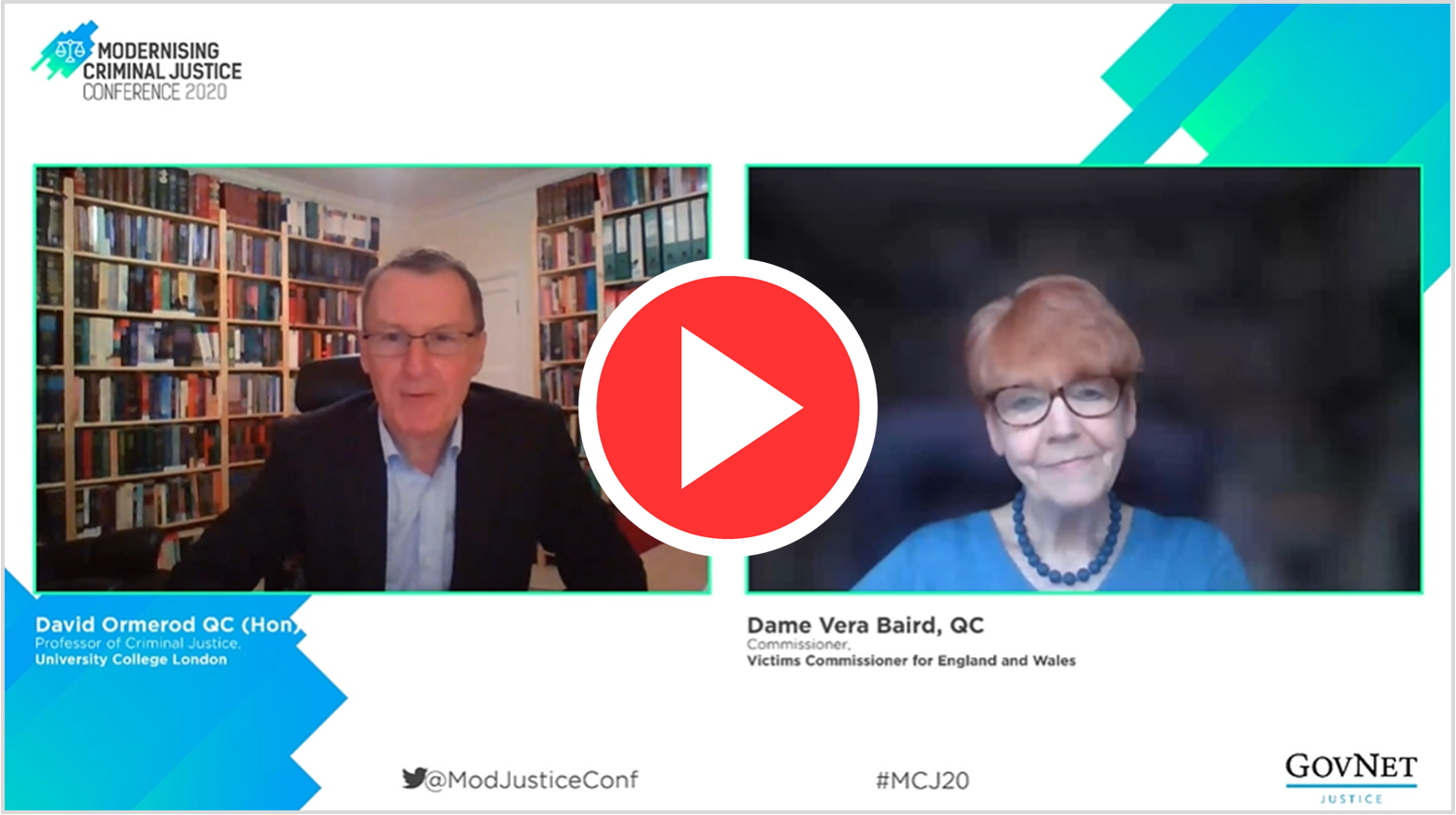 Looking ahead at Modernising Criminal Justice 2021
Following this interview, we are pleased to confirm that Dame Vera will be back for the 2021 event, which will be returning to its normal summertime slot on 23rd June. The Commissioner will be leading a dedicated session in the afternoon, entitled "Vulnerability within the Justice System - Identification & Care from Start to Finish". As part of the presentation, she will be discussing:
How to identify vulnerabilities in victims, witnesses and offenders from the point of arrest onwards and pushing for recognition and standards of care in court
Understanding the needs of young people during the transition into adulthood and evaluating how we view and treat maturity within the justice system
Emphasising the need for a joined-up approach and greater commitment in getting needs met.
You can join Dame Vera Baird QC at Modernising Criminal Justice 2021 on Wednesday 23rd June. View the agenda here. Visit the registration page to secure your pass (free for prison and probation staff), as well as access to discounted early bird tickets.